Posts for: April, 2014
By Paul E Gray DMD
April 25, 2014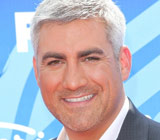 Like many who have risen to the top tier in show business, singer Taylor Hicks found that he needed a few things (besides talent, of course) to really succeed: a willingness to seek out opportunities and work hard; a unique and energetic stage presence; and a bright, appealing smile.
"Everyone wants to have a great smile," Hicks recently told Dear Doctor magazine. "In my business, it's one of the most important things. A lot of what I do is smiling and having fun, being in front of the camera and taking pictures."
To help him keep his smile sparkling, Hicks opts for in-office whitening treatments from his dentist. These treatments are a safe, quick and effective way to lighten teeth by 3 to 8 shades in a single one-hour visit. Best of all, you don't have to be an American Idol winner or a Las Vegas headliner to take advantage of them — in fact, we offer them right here in our own office.
Why choose in-office treatments instead of take-home trays (or over-the-counter products)? While each system can be effective at lightening teeth to some degree, the in-office method offers several distinct advantages. For one, it's the fastest way to get your teeth as bright as they can be; the same lightening that can be achieved in one office visit could take a week when done at home, using custom-made trays and dentist-supplied bleaching solutions — and several weeks with over-the-counter products! So if your time is limited, in-office treatment is the way to go.
Plus, in-office treatments are performed under our direct supervision. That means we can safely use the most powerful whitening gels, and achieve the maximum control over the result. This can be important when you have crowns or replacement teeth such as implants, which Hicks has. Artificial crowns don't whiten like natural teeth, so it's important to get just the right degree of lightening to produce an evenly bright smile.
The bottom line, of course, is the result: a dazzling white smile. "In entertainment, a big, pearly white smile makes a difference," Hicks said. But you don't have to be an entertainer to enjoy the benefits of a brilliant smile — we do it for plenty of "regular folks" too.
So if your smile could use a little brightening, why not call us and schedule an appointment for whitening treatment? You can learn more in the Dear Doctor magazine articles "Teeth Whitening" and "Important Teeth Whitening Questions Answered."
By Paul E Gray DMD
April 10, 2014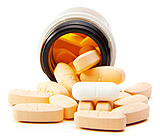 If you've come in to our office lately, chances are you've been asked to fill out a form or answer a question about what medications — both prescription and non-prescription — you are currently using. Of course, if you're taking a blood-pressure drug or a pill to help control your cholesterol, you wouldn't hesitate to put it on the list. But how about those vitamins and herbal supplements you take — do you really have to list those too?
The answer is a definite yes — and some of the reasons why may surprise you. Did you know that many "natural" dietary supplements can have potentially serious interactions with other drugs you may be prescribed? For example, herbal preparations made from the plant called St. John's Wort are often used by people seeking relief from depression or anxiety. However, the active chemical compounds in this herb can interfere with some anesthetic drugs, and may make it harder for you to recover from the effects of anesthesia. Ginkgo biloba and some other commonly used herbs have a similar effect.
Even some vitamins have the potential to cause negative interactions. Large doses of Vitamin E, for example, can increase the risk of internal bleeding in people who are taking blood thinners or non-steroidal anti-inflammatory medications (NSAIDS), such as aspirin and ibuprofen. These medications are commonly prescribed for pain relief after minor dental procedures.
Does that mean you have to stop taking vitamins and herbal supplements if you may need a dental or medical procedure? Not necessarily. Vitamins are indeed vital to your health, and a deficiency in one or more of these important substances can result in serious diseases — like scurvy, which formerly plagued sailors lacking access to fresh fruits and vegetables. If you've been told you have a vitamin deficiency, taking vitamin pills is a must.
But the best way to get the proper amount of vitamins is through a healthy, well-balanced diet rich in fruits, vegetables, and whole grains. Not only does consuming these foods give you the most "natural" source of vitamins — it also provides you with other essential micronutrients and fiber, and it is low in fat and cholesterol.
No nutritional supplement is a substitute for a healthy diet — and that's something we'd like everyone to remember. We'd also like to remind you to tell us about ALL the medications and supplements you're taking, especially if you're going to have a procedure. Giving us complete information will help ensure that you'll remain as healthy and safe as possible.
If you have questions about dietary supplements, nutrition and your teeth, please call our office to arrange a consultation. You can learn more in the Dear Doctor magazine article "Vitamins & Dietary Supplements: What Every Consumer Should Know."