Posts for: August, 2014
By Paul E Gray DMD
August 20, 2014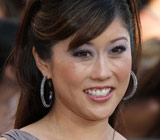 When Olympic figure skater Kristi Yamaguchi wanted to help her kids develop good oral health habits, the gold-medal-winner made good use of a family connection: Her father Jim Yamaguchi is a practicing dentist in the San Francisco Bay area who treats her entire brood. As she said in a recent interview, when she suspects the kids may be spending a little less effort on oral hygiene than they should, she playfully admonishes them: "You've got to brush your teeth better than that. Papa-san is going to know!"
Not all kids are lucky enough to have a grandpa who's a dentist — but every child can learn how to help take care of his or her oral health with age-appropriate techniques, plus plenty of parental guidance and encouragement. What's the best way to help your kids develop good oral hygiene routines? We're glad you asked!
Through babyhood and the toddler years, parents have the main responsibility for keeping kids' teeth clean. But as they begin to put away pacifiers and cease sucking thumbs — around ages 2 to 4 — children can also begin to help with their own oral hygiene routine. By then, kids will probably be used to the feel of gentle brushing, and may be eager to try it themselves.
A soft-bristled brush with a pea-sized dab of toothpaste is all they need to get started… along with a good dose of parental patience. Show them how to wiggle the brush back and forth from the gum line, and all around the upper and lower teeth, both in front and in back. At first, they will probably need plenty of help. But after the age of 6 or so, as their manual dexterity increases, so will their ability to get the job done.
You'll still have to check their work periodically — but you can also teach them how to do it on their own: Have your child run his or her tongue over the tooth surfaces. If they feel smooth and silky, they're probably clean too. If not… try, try again. This test is a good guideline to brushing effectiveness — but if you want to know for sure, use a temporary dye called a disclosing tablet (available at many drugstores) to reveal unseen buildups of plaque bacteria.
What else can you do to give your children the best chance at keeping a healthy mouth and sparkly teeth? Set a positive example! Make sure you (and your kids) eat a healthy diet, get moderate exercise, limit between-meal treats — and visit the dentist regularly. The encouragement you'll get after having a good dental checkup will make you feel like a gold medalist — even if the praise isn't coming from grandpa.
If you would like more information on how to help your child develop good oral health habits, please contact us or schedule an appointment for a consultation. You can also learn more about this topic by reading the Dear Doctor magazine articles "Dentistry & Oral Health For Children" and "How to Help Your Child Develop the Best Habits for Oral Health."
By Paul E Gray DMD
August 05, 2014
Chewing gum, so much a part of modern culture, actually has ancient roots — humans have been chewing some form of it for thousands of years. While gum chewing is a benign habit for the most part, it does raise some dental health concerns.
The good news for jaw function is that chewing gum is unlikely to cause any long-term problems for your joints if you respond to your body's warning signals. Our joints, muscles and associated nerves have a built-in mechanism of fatigue and pain signaling to help us avoid overuse. Furthermore, the action of chewing stimulates the production and release of saliva. Among saliva's many beneficial properties is its ability to neutralize acid, which can soften and erode tooth enamel. It also strengthens enamel by restoring some of the calcium and other minerals lost from acid.
That doesn't mean, however, that the physical act of chewing gum isn't without risks. Chewing gum "exercises" your jaw muscles and makes them stronger, so they're able to deliver more force to your teeth. This could lead to future tooth mobility and excessive wear. It's important then that you don't chew gum excessively to avoid this kind of damage to your teeth.
Unfortunately, there's more bad news involving a key ingredient in many brands. Many manufacturers use sugar (sucrose) to sweeten their product, which is a major part of its appeal. Sugar, however, is a prime food source for oral bacteria responsible for tooth decay. The prolonged presence of sugar in the mouth when we chew gum can negate the beneficial effects of increased saliva.
A sweetener called xylitol, though, could be the answer to "having your gum and chewing it too." This alcohol-based sugar (which, by the way, has almost half the calories of table sugar) has the opposite effect on bacteria — rather than becoming a food source it actually inhibits bacterial growth. Studies have even shown that products like chewing gum, mints or candy sweetened with xylitol can contribute significantly to a reduction in dental caries (cavities) caused by decay.
The better news: you don't have to give up chewing gum for the sake of your teeth — just be sure to choose products with dental-friendly ingredients and don't chew excessively. You'll not only reduce the risks of tooth decay and damage, you'll also promote a healthier environment in your mouth.
If you would like more information on chewing gum and its effects on dental health, please contact us or schedule an appointment for a consultation. You can also learn more about this topic by reading the Dear Doctor magazine articles "Chewing Gum" and "Xylitol in Chewing Gum."