Posts for: December, 2014
By Paul E Gray DMD
December 16, 2014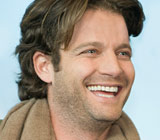 Nate Berkus, author, interior designer and host of his own television program, The Nate Berkus Show, is a consummate professional who has always focused on "helping others love the way they live," as he puts it. Berkus is known as one of America's most beloved go-to-guys for inspiration on the latest design trends. And then there is his captivating smile.
In an exclusive interview with Dear Doctor magazine, Berkus discusses his trademark smile. Unlike most people in Hollywood, his smile is totally natural — he never wore braces or had any cosmetic work. However, Berkus does give credit to his childhood dentist for the preventative healthcare he received as a young boy. Berkus states, "I'm grateful for having been given fluoride treatments and sealants as a child. Healthy habits should start at a young age."
As for his oral hygiene routine today, Berkus says he brushes his teeth at least two times a day, and sometimes three times a day. Berkus is also an avid "flosser" and follows the important flossing advice he learned from his dentist: "Floss the ones you want to keep."
In addition to his design expertise, Berkus is right on the mark with his opinions on oral hygiene. In fact, he inspired our office to put together the following list of facts and oral health tips:
The first step in improving your oral health is to learn good oral hygiene behavior. Simply put, to maintain optimal oral health, you must brush and floss properly so that you thoroughly remove the dental plaque.
The second step is a thorough evaluation system. We are a key part of this step. During your next office visit, we can conduct a thorough examination, review your brushing and flossing techniques, examine the health of your tongue and discuss any questions you have. We can also clean your teeth and ensure that you leave our offices confident with your new oral hygiene routine. And if you don't have an appointment, contact us today to schedule one.
To learn more about improving your oral hygiene, you can continue reading the Dear Doctor magazine article "Oral Hygiene Behavior - Dental Health For Life." And to read the entire interview with Nate Berkus, please see the article "Nate Berkus."
By Paul E Gray DMD
December 01, 2014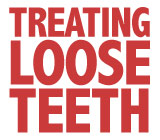 Adult teeth aren't meant to be loose — it's a sign that something is wrong. And while there are treatments, time is of the essence before permanent tooth or bone loss occurs.
Loose teeth can occur for many different reasons. Bite-related problems are fairly common, referred to as occlusal trauma ("occlusal" – bite; "trauma" – injury). This could be the result of excessive force placed on otherwise normal teeth and jaws — chronic clenching or grinding habits, for example. On the other hand, even normal biting or chewing can cause teeth to loosen if bone loss from gum disease has become excessive, reducing the remaining attachment to bone to inadequate levels. In some cases it can be a result of both excessive force and weakened bone levels.
Of these reasons, the most common cause is the weakened attachment of the teeth to the bone due to gum disease. If this is the case, it's important first to treat the gum disease by an appropriate strategy for the disease present and then implement an effective dental hygiene program to inhibit reoccurrence.
As for the problem of loose teeth, there are measures to address it. Occlusal bite adjustment reduces the degree of force when biting or chewing by reshaping the biting surfaces through selective grinding. Splinting is another technique in which the teeth are joined together to make them more rigid and to redistribute the biting force among several teeth. This can be done with material bonded across the outside of several teeth or with a metal splint affixed within a pre-cut channel across the teeth. A more permanent option is to create a series of crowns to affix to the teeth and then fuse them together.
Although more complex, orthodontics to correct misaligned teeth is another option. Not only will it improve the bite and potentially reduce bite forces, it may also improve the health of the supporting periodontal attachment.
Before undertaking any treatment, you should first undergo a thorough exam to determine the true cause of your loose teeth and any underlying conditions. From there we can recommend the best approach for treating and preserving your teeth.
If you would like more information on treatments for loose teeth, please contact us or schedule an appointment for a consultation. You can also learn more about this topic by reading the Dear Doctor magazine article "Treatment for Loose Teeth."