Posts for: April, 2015
By Paul E Gray DMD
April 25, 2015
If you are one of the millions of Americans with missing teeth, then you're probably aware of some of the obvious side effects. You may feel self-conscious during conversations or simply avoid smiling altogether to conceal your dental issue. It is not uncommon for missing teeth to affect your confidence, but did you know that there are other problems that result from tooth loss?
For starters, if you have lost enough teeth, eating may become more difficult, in particular healthy foods, such as fruits and vegetables. This is one of the main reasons that inadequate dental care frequently results in nutritional deficiency.
Another very serious issue that results from missing teeth is bone loss. We sometimes refer to this as a "hidden consequence," because you may not actually see or feel this issue right away. Did you know that bone is actually living tissue that needs constant stimulation to maintain its form and density? Thus, when a tooth is lost, the bone in the jaw that surrounded and supported that tooth melts away. There is a 25% decrease in width of bone during the first year after tooth loss and an overall 4 millimeters decrease in height over the next few years. The longer you have missing teeth, the greater the loss of bone.
As bone loss continues, it can actually affect the structure of your face. If you lose your teeth early in adulthood, by age 45 you might start to notice sunken cheeks. By age 60, your cheeks and lips will lose their support, resulting in a collapsed and aged look. If your teeth are not replaced, this process will continue, and you will be in danger of losing much of the structural support of your lips and cheeks.
Luckily, we can use dental implants to not only restore your smile, but also to halt this bone loss. Implants look, feel and function like your natural teeth and are made of titanium, which has the unique ability to fuse with your living bone. Among the many benefits of implants, they continue to provide stimulation to your bone, preventing further bone loss.
With a success rate of more than 95%, implants are the best long-term solution for tooth replacement.
If you would like more information about implants and bone loss, please contact us or schedule an appointment for a consultation. You can also learn more by reading the Dear Doctor magazine article "The Hidden Consequences of Losing Teeth."
By Paul E Gray DMD
April 10, 2015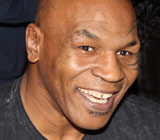 Mike Tyson's gap-toothed smile is part of athlete-turned-celebrity's signature look. During his two-decade career as a professional boxer, the former heavyweight champion has been known for both giving — and occasionally receiving — knockout punches. But the story of how he lost one set of front teeth is a bit more unusual.
In a recent interview with the Las Vegas Review Journal, Tyson's wife Kiki stated that one of the champ's major dental dilemmas didn't come from blows inside the ring. In fact, she said, Tyson lost the teeth after being head-butted by his pet tiger, Kenya.
It's too bad Tyson wasn't wearing a mouthguard before he decided to play with kitty.
Fight fans know that boxers always put in a mouthguard before they enter the ring. But the pugilistic pursuit is just one among the two-dozen-odd sports for which the American Dental Association recommends the use of custom mouthguards. Others include baseball, skateboarding, surfing and bicycling. (Maybe horsing around with tigers should be added to the list!)
Why is it so important for participants in athletic activities to use this piece of protective gear? According to the U.S. Centers for Disease Control, sports-related dental injuries account for over 600,000 emergency-room visits each year. Many of these injuries require further dental treatment; some may lead to tooth loss and require costly replacement. Not wearing a mouthguard makes an athlete 60 times more likely to sustain harm to the teeth, according to the American Dental Association. So there's really no contest.
You can find basic, off-the-shelf mouthguards in limited sizes at many sporting goods stores. But for a reasonable cost, we can provide you with a properly fitted dental appliance that's custom-made just for you. Starting with a precise model of your teeth, individual mouthguards are crafted from impact-resistant materials which are designed to be strong, comfortable, resilient — and effective.
Research shows that custom-made mouthguards offer superior quality and protection. So if you or your loved ones like to get out on the playing field, don't neglect this important piece of sporting equipment. And watch out for the cat.
If you have questions about mouthguards, please contact us or schedule an appointment for a consultation. You can learn more in the Dear Doctor magazine article "Athletic Mouthguards."