Posts for tag: eating disorders
By Paul E Gray DMD
June 10, 2017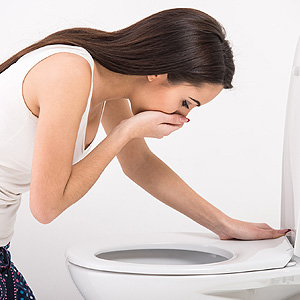 Sometimes dental conditions point to health problems beyond the teeth and gums. An astute dentist may even be able to discern that a person's oral problems actually arise from issues with their emotional well-being.  In fact, a visit to the dentist could uncover the presence of two of the most prominent eating disorders, bulimia nervosa or anorexia nervosa.
Here are 3 signs dentists look for that may indicate an eating disorder.
Dental Erosion. Ninety percent of patients with bulimia and twenty percent with anorexia have some form of enamel erosion. This occurs because stomach acid — which can soften and erode enamel — enters the mouth during self-induced vomiting (purging), a prominent behavior with bulimics and somewhat with anorexics. This erosion looks different from other causes because the tongue rests against the back of the bottom teeth during vomiting, shielding them from much of the stomach acid. As a result, erosion is usually more severe on the upper front teeth, particularly on the tongue side and biting edges.
Enlarged Salivary Glands. A person induces vomiting during purging by using their fingers or other objects. This irritates soft tissues in the back of the throat like the salivary glands and causes them to swell. A dentist or hygienist may notice redness on the inside of the throat or puffiness on the outside of the face just below the ears.
Over-Aggressive Brushing. Bulimics are acutely aware of their appearance and often practice diligent hygiene habits. This includes brushing the teeth, especially after a purging episode. In doing so they may become too aggressive and, coupled with brushing right after purging when the minerals in enamel are softened, cause even greater erosion.
Uncovering a family member's eating disorder can be stressful for all involved. In the long run, it's best to seek out professional help and guidance — a good place to start is the National Eating Disorders Association (www.nationaleatingdisorders.org). While you're seeking help, you can also minimize dental damage by encouraging the person to rinse with water (or a little baking soda) after purging to neutralize any acid in the mouth, as well as avoid brushing for an hour.
If you would like more information on the effect of eating disorders on oral health, please contact us or schedule an appointment for a consultation. You can also learn more about this topic by reading the Dear Doctor magazine article "Bulimia, Anorexia & Oral Health."
By Paul E Gray DMD
June 04, 2014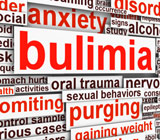 Sometimes what's going on in the mouth may point to a deeper issue. Although unpleasant to address, a dental examination could reveal signs of an eating disorder.
There are two disorders in particular that can adversely affect oral health: bulimia nervosa, characterized by food binging followed by purging through self-induced vomiting; and anorexia nervosa, characterized by self-starvation behavior. Occasionally, patients with one disorder may display behavior associated with another disorder.
"Binge-purge" behavior patterns are especially damaging to tooth enamel. When teeth are exposed to high levels of acid, the minerals in tooth enamel soften and erode. This is common with patients who overuse sodas, sports drinks and juices with high levels of citric acid. But bulimic patients also experience it because of stomach acid residue in the mouth after purging.
Patients with eating disorders also encounter other problems in the mouth. The salivary glands may become enlarged, giving the sides of the face a puffy appearance. The throat, palate and back of the tongue may appear red and damaged caused by fingers or other objects used to induce gagging.
There are also some differences between the two disorders in their effect on dental health. Anorexics tend to neglect grooming habits, including daily oral hygiene, which can lead to tooth decay and gum disease. Bulimic patients, on the other hand, are very mindful of body image and practice excellent grooming habits — but to a fault. In fact, aggressive brushing (especially after purging when high acid has caused enamel softening) can actually cause more erosion.
In the short-term, it's important to treat dental problems caused by eating disorder behaviors, as well as encouraging better hygiene practices like waiting a few minutes to brush after purging or by rinsing with a little baking soda and water to help neutralize the acid. Ultimately, though, the eating disorder itself needs to be addressed and treated. In addition to your personal healthcare providers, the National Eating Disorders Association (nationaleatingdisorders.org) is a good online source for information and referrals.
Although a sensitive issue, an eating disorder can't be ignored. Because of its effect on all aspects of health, including the teeth and mouth, the sooner it's addressed, the better the outcome for patients and their families.
If you would like more information on the effect of eating disorders on oral health, please contact us or schedule an appointment for a consultation. You can also learn more about this topic by reading the Dear Doctor magazine article "Bulimia, Anorexia & Oral Health."