Posts for tag: oral cancer
By Paul E Gray DMD
February 14, 2020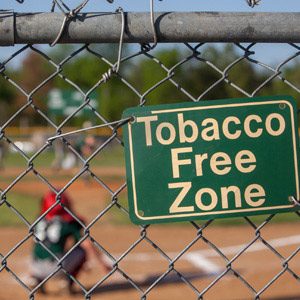 While sports like football, basketball and soccer have exploded in popularity over the last few decades, many Americans still have a soft spot for the granddaddy of them all: baseball. While technology has changed many aspects of the game, many of its endearing traditions live on.
Unfortunately, one baseball tradition isn't so endearing and definitely hazardous to health—tobacco, primarily the smokeless variety. Players and coaches alike, even down to the high school level, have promoted or at least tolerated its use.
But there are signs this particular baseball tradition is losing steam. Not long ago, the San Francisco Giants became the first major league baseball team to prohibit tobacco in its home stadium—on the field as well as in the stands. The move was largely in response to a law passed by the City of San Francisco, but it does illustrate a growing trend to discourage tobacco use in baseball.
While smoking, chewing or dipping tobacco can certainly impact a person's overall health, it can be especially damaging to the teeth, gums and mouth. Our top oral health concern with tobacco is cancer: Research has shown some correlation between tobacco use (especially smokeless) and a higher risk of oral cancer.
You need look no further than the highest ranks of baseball itself to notice a link between tobacco and oral cancer. Although from different eras, Babe Ruth and Tony Gwynn, both avid tobacco users, died from oral cancer. Other players like pitcher Curt Schilling have been diagnosed and treated for oral cancer.
Cancer isn't the only threat tobacco poses to oral health. The nicotine in tobacco can constrict blood vessels in the mouth; this in turn reduces the normal flow of nutrients and disease-fighting immune cells to the teeth and gums. As a result, tobacco users are much more susceptible to contracting tooth decay and gum disease than non-users, and heal more slowly after treatment.
That's why it's important, especially in youth baseball, to discourage tobacco use on the field. While most of baseball's traditions are worthy of preservation, the chapter on tobacco needs to close.
If you would like more information on the oral health effects of tobacco, please contact us or schedule an appointment for a consultation.
By Paul E Gray DMD
November 26, 2016
You probably know practicing healthy dietary and lifestyle habits can help prevent tooth decay and periodontal (gum) disease. But good habits could also lower your risk for a more dangerous type of disease — oral cancer.
There are several risk factors for oral cancer, including those you can't do much about like your genetic makeup or unknown elements in the environment. But there are factors you can influence with your actions.
You're probably familiar with the links between tobacco use (both smoked and smokeless) and oral cancer. But excessive alcohol use could also increase your risk, as can risky sexual behavior that could expose you to human papilloma virus (HPV) 16.
And what you eat — or don't eat — could also influence your cancer risk. Research over the last half century has uncovered a link between diet and cancer. Cancer development seems to begin with damage to DNA, the genetic material that "tells" each of our cells what it is and what it does in the body. Substances called carcinogens found in the environment — including the foods we eat — can damage our DNA and open the door for cancer to development.
But some foods also contain elements that protect our DNA from carcinogenic damage. Some of these are known as antioxidants, which protect cells from unstable molecules called free radicals. You'll find antioxidants, as well as other protective substances like fiber, vitamins and lycopene in plant-based foods, particularly fruits and vegetables.
Eating a plant-based diet also means you'll eat fewer foods that contribute to the rise of free radicals like saturated fat, animal protein and nitrates (a chemical that occurs in some food processing). A healthy diet, along with quitting tobacco use and moderating alcohol consumption, will help not only preventing decay or gum disease, it will also drastically lower your risk for oral cancer.
If you would like more information on oral cancer prevention, please contact us or schedule an appointment for a consultation. You can also learn more about this topic by reading the Dear Doctor magazine article "Diet and Prevention of Oral Cancer."